The Green Code will bring together and codify land use strategies from an array of interrelated planning initiatives that comprise Buffalo's development framework. The framework is based on the community's vision as expressed in the city's Comprehensive Plan and consists of the following initiatives: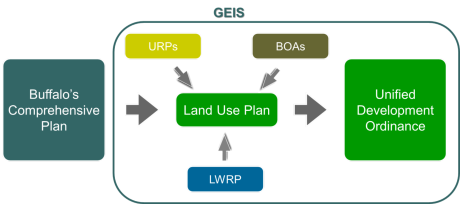 Land Use Plan
Translates the Comprehensive Plan's principles into a Land Use Plan that will guide the city's physical development over the next 20 years;
Brownfield Opportunity Areas (BOAs)
Includes land use and zoning recommendations based on detailed analyses for brownfield areas in South Buffalo, Buffalo River Corridor, Buffalo Harbor, and Tonawanda Street Corridor BOAs;
Local Waterfront Revitalization Program (LWRP)
Includes land and water use plans, as well as proposed projects, that will guide development along the city's coastal areas;
Unified Development Ordinance (UDO)
Provides new form based zoning, subdivision, sign, and public realm standards that will replace the city's 60-year old zoning code and other regulations that control development;
Urban Renewal Plans (URPs)
The city's 30 existing URPs will be terminated, with relevant provisions to be incorporated into the UDO. A new citywide URP will delineate eligible areas for the city's homestead program, which allows for the sale of city-owned vacant property for one dollar.
Draft Generic Environmental Impact Statement (DGEIS)
The cumulative environmental impact of adopting the Buffalo Green Code, including all of its components, is being evaluated under one Generic Environmental Impact Statement (GEIS) in accordance with the State Environmental Quality Review Act (SEQRA). The SEQRA process will include a public review period, providing community members the opportunity to submit official comments on the Green Code and each of its components.