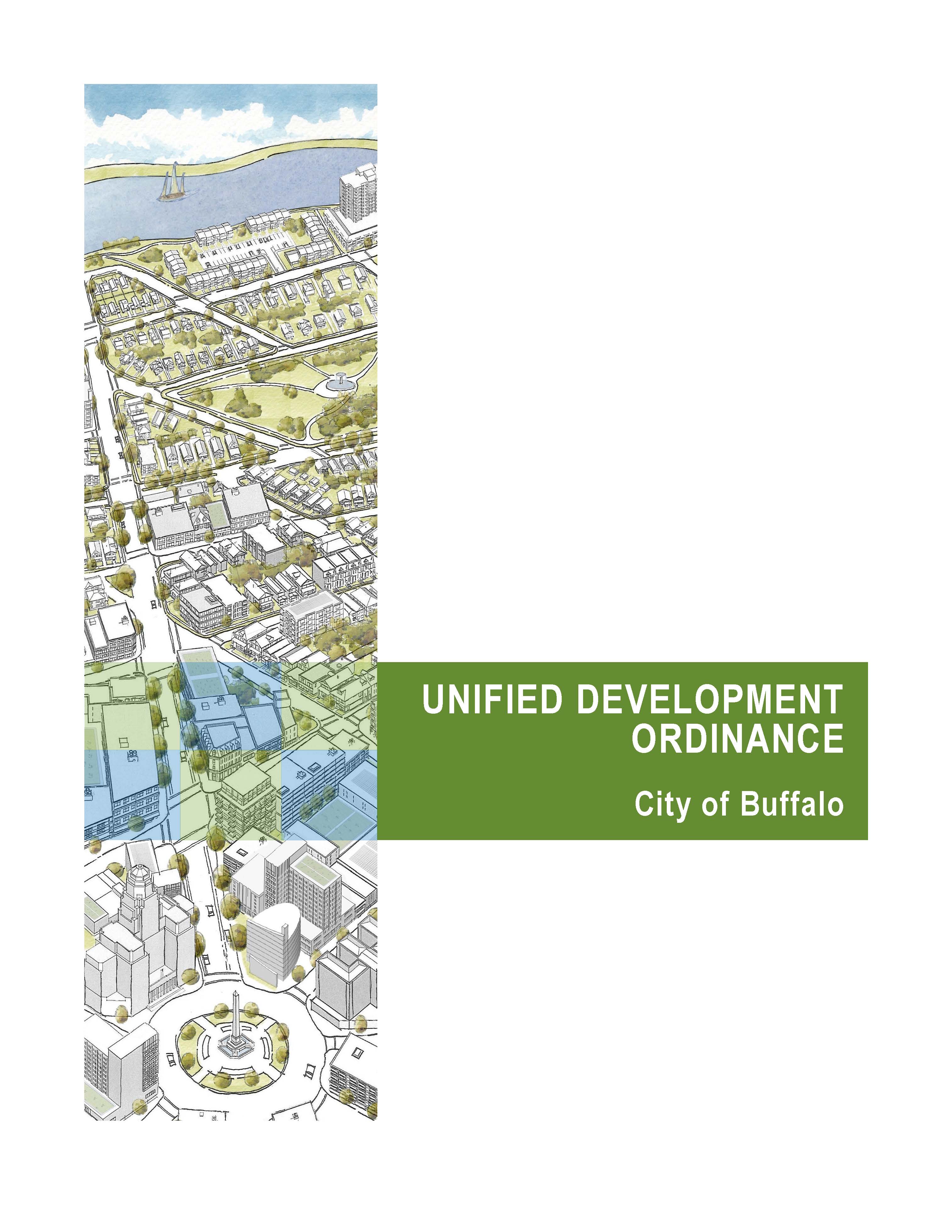 Zoning is designed to protect a community by outlining what can and can't be built on a given piece of land. It sets standards to ensure that adjacent buildings complement rather than conflict with each other. And it determines whether homes, schools, and stores are clustered together or set far apart.
The UDO is the city's first comprehensive zoning rewrite since 1953 and codifies the land use policies of the Comprehensive Plan and Buffalo Green Code planning documents. It will combine land use, subdivision, and public realm (e.g.; streets, parks, and sidewalks) standards into a single, user-friendly document.
The UDO implements the community's vision for the development of the city. Responding to considerable input from residents and business owners, it will be a "form-based code," emphasizing neighborhood character, as its organizing principle. This approach was chosen because of its unique capacity to help realize the community's vision for walkable, transit-supportive neighborhoods. It will be a more accessible document, with illustrations, tables, and plain English text, making the ordinance easier to understand and apply.
---
The entire December 2016 document is available here or broken into articles below.
Contents (December 2016)
Title, Purpose, and Applicability
Zoning Map
Transition Rules
Rules of Interpretation
Glossary of Terms
Measurements & Exceptions
Zone Descriptions
Building Types
Frontages
Overlays
D-R Residential Campus
D-M Medical Campus
D-E Educational Campus
D-S Strip Retail
D-C Flex Commercial
D-IL Light Industrial
D-IH Heavy Industrial
D-OS Square
D-OG Green
D-ON Natural
C-M Metro Rail
C-R Rail
C-W Waterfront
Principal Uses
Accessory Uses
Temporary Uses
Landscape
Fences and Walls
Stormwater
Outdoor Lighting
Corner Visibility
Site Impacts
Pedestrian Access
Bicycle Access and Parking
Vehicle Access and Parking
Transportation Demand Management
- Transportation Demand Management Policy Guide
General
On-Premise Signs
Off-Premise Signs
Exempt Signs
Blocks Rights-Of-Way
Review Bodies & Administrators
Common Procedures
Zoning Approvals
Right-Of-Way Approvals
Subdivision Approvals
Nonconformities
Enforcement
Zoning Board of Appeals
Planned Unit Development Number 1: Gates Circle Redevelopment
Delaware Council District Zoning Map
Ellicott Council District Zoning Map
Fillmore Council District Zoning Map
Lovejoy Council District Zoning Map
Masten Council District Zoning Map
Niagara Council District Zoning Map
North Council District Zoning Map
South Council District Zoning Map
University Council District Zoning Map
---
The entire October 2016 document (8.5 MB) is available here
Delaware Council District Zoning Map
Ellicott Council District Zoning Map
Fillmore Council District Zoning Map
Lovejoy Council District Zoning Map
Masten Council District Zoning Map
Niagara Council District Zoning Map
North Council District Zoning Map
South Council District Zoning Map
University Council District Zoning Map
---
The entire September 2016 document (21 MB) is available here
---
The entire October 2015 document (96 MB) is available here
Delaware Council District Zoning Map
Ellicott Council District Zoning Map
Fillmore Council District Zoning Map
Lovejoy Council District Zoning Map
Masten Council District Zoning Map
Niagara Council District Zoning Map
North Council District Zoning Map
South Council District Zoning Map
University Council District Zoning Map
---
Related Documents
A number of reports have been prepared during the formulation of the Unified Development Ordinance. As new documents related to the UDO are completed, they will be added to the web site.
A Preview of Buffalo's New Zoning (PDF)
Buffalo Consolidated Development Framework, Draft Scoping Document (PDF)
Understand the Green Code Better FAQs (PDF)
Zoning Policy Brief (PDF)
Zoning Technical Report (PDF)
Existing Zoning and Subdivision Ordinances