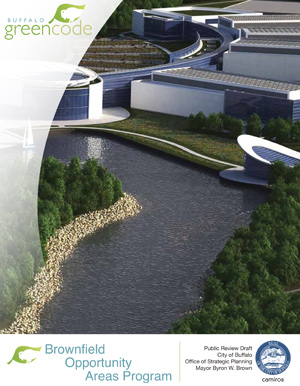 Buffalo was historically a major manufacturing hub, with numerous industrial facilities situated along its waterfront and rail corridors. Similar to many cities throughout the Northeast and Midwest, our economy has been restructured over the past several decades, with many older industrial operations closing, leaving behind an environmental legacy that has rendered these parcels difficult and expensive to redevelop.
The Green Code includes land use and zoning recommendations based on detailed analyses of areas impacted by brownfields. The New York State Department of State's Brownfield Opportunity Area (BOA) Program has been instrumental in this effort by providing significant resources for the planning of these areas.
The City has four ongoing projects under the BOA Program, with three studies that are directly incorporated into the Buffalo Green Code, including the Tonawanda Street Corridor, Buffalo Harbor, and Buffalo River Corridor BOAs. In addition, the Green Code is consistent with the South Buffalo BOA, for which a study has been completed and an implementation strategy is underway. The City is also applying for a BOA to encompass the East Delavan-Grider industrial area.
The redevelopment of former steel manufacturing sites, including the Buffalo Lakeside Commerce Park and the recently announced High Tech Hub at RiverBend, demonstrate that planning for the redevelopment of these areas is a critical step in their successful transformation. Under the Green Code, the BOAs will lay the groundwork for future brownfield redevelopment in Buffalo.
---
Click below to access the draft BOA documents:
Buffalo Harbor BOA
Buffalo River Corridor BOA
South Buffalo BOA
Tonawanda Street Corridor BOA