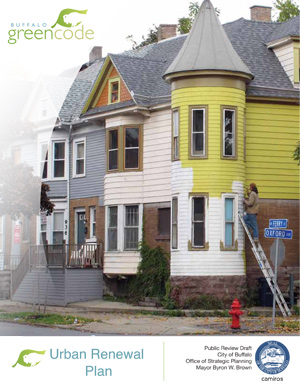 Like many cities across the nation, Buffalo began designating urban renewal areas in the late 1950s. Originally targeted for the removal of slums and blight, these plans quickly became associated with the demolition of low-income neighborhoods. Subsequent urban renewal plans (URPs) served as a means of addressing Buffalo's increasingly dated zoning code. The majority of the 30 active plans, the oldest of which dates back to 1968, outline performance standards and other zoning requirements for the neighborhoods they encompass.
The city is proposing to terminate all but one of its remaining URPs – the Homestead Urban Renewal Plan. The Homestead Plan has three components: rehabilitation of abandoned housing, side-lot acquisition by adjacent homeowners, and new construction on vacant lots. The homestead program is targeted to select neighborhoods with markets that could benefit from this type of incentive.
The other urban renewal plans will be terminated, and the standards contained in the Unified Development Ordinance will be applied in their place. This will help Buffalo turn the page on the urban renewal era, and make the zoning code easier to use and in line with today's vision.
---
The Draft URP report will be available shortly.
Active URPs
1968 Thruway Industrial Park URP
1976 Downtown Renewal Phase III URP 2016
1976 Thruway Industrial Park Phase I&II URP 2020
1979 Cold Spring Neighborhood Renewal Project URP 2019
1979 Downtown Entertainment District Phase I URP 2019
1979 Downtown Entertainment District Phase II URP 2020
1980 Broadway Fillmore Commercial District URP Amendment 2020
1980 Grant Ferry Commercial District URP 2020
1980 Oak-Michigan Industrial Corridor Phasae I URP 2020
1980 Oak-Michigan Industrial Corridor Phase II URP 2020
1980 Seneca Cazenovia Commercial District URP 2020
1981 Downtown Entertainment District Phase III URP 2021
1981 Oak Michigan Industrial Corridor Phase IIB URP 2021
1982 Lower West Side Georgia Prospect URP 2022
1982 New Buffalo Industrial Park URP 2022
1983 Connecticut Street URP 2023
1985 Downtown Entertainment District Phase I URP Amendment
1985 Pratt Willert Revitalization Area URP 2025
1986 Downtown Entertainment District Phase IV and IV- URP
1986 Pratt Willert Revitalization Area URP Amendment
1995 Connecticut St URP Amendment 2023
2001 Main LaSalle Revitalization Project Phase II URP 2021
2002 Michigan St Preservation Area URP
2003 Union Ship Canal Redevelopment Area URP
2005 Genesee Village URP 2016
2005 Seneca Babcock Redevelopment Project URP
2005 Union Ship Canal Redevelopment Area URP Amendment
2005 Urban Homestead Program
2006 Downtown Urban Renewal Project Phase IV URP
2007 Pratt Willert Revitalization Area URP Amendment